For news about Central Texas College worldwide visit the Central Campus Facebook Page at https://www.facebook.com/CentralTexasCollegeCTC.
For additional news about CTC Europe, please visit our Facebook page at https://www.facebook.com/CTCEurope and/or follow us on Twitter at https://twitter.com/CTC__Europe.
Click here to download a flyer with several ways to contact CTC Europe.
08 March 2021
GoArmyEd is replaced by ArmyIgnitEd.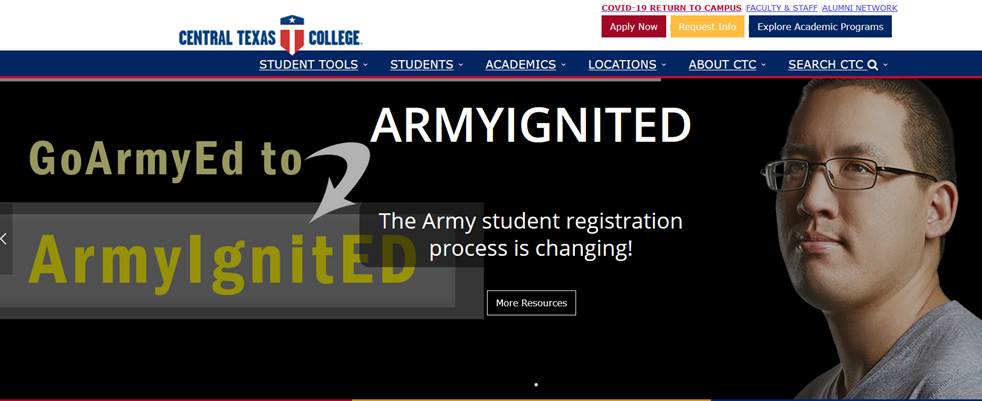 08 March 2021
Learn More
Coronavirus (COVID-19) and CTC Europe

CARES Act Emergency Funding
Central Texas College opened it CARES Emergency Funding Application for students to apply. The form is in Etrieve and can be located using the link
https://etcentral.ctcd.edu/#/form/557. Or students can log into their Etrieve account and enter CARES in the "search" field.
A CTC Webpage has been created that includes eligibility requirements, FAQs, and other important information. In addition, a video about the CARES ACT emergency grant and how to apply should be posted early this week. Link to the webpage is provided below.
http://www.ctcd.edu/covid-19-return-to-campus/financial-assistance/coronavirus-response-and-relief-supplemental-appropriations-act-aid/
There are 4,543 CTC students worldwide who could be eligible for the CARES Act Emergency Financial Aid grant. Students must have been enrolled in a college credit classroom or blended (hybrid) course on March 13 or later offered during the Spring Semester that was converted online, and they must have applied or apply for the free FAFSA. Students do not have to be awarded federal financial aid to apply for the CARES Act grant. However, they must complete the FAFSA if they have not already done so. For students who need to apply for the free FAFSA, once the application is submitted a confirmation page should appear on the screen. The student should attach a copy of the confirmation with the Etrieve application. Other requirements include:
Be a U.S. citizen or eligible non-citizen
Have a valid social security number
If male, be registered for the selective service
Earned a high school diploma, a high school equivalency (GED) or completion of high school in an approved homeschool setting
Students official high school transcript or GED certificate must be on file with CTC. As a friendly reminder, if obtaining an official high school transcript or high school equivalency document presents a hardship for students, other documents as determined by CTC may be accepted.