The Central Texas College (CTC) Nursing and Allied Health department celebrated National Nurses Week with a pinning ceremony for 37 students completing the Associate Degree in Nursing (ADN) program during the spring 2022 semester. Students received pins signifying the transition of their role as a student nurse to that of a practicing nurse.
During the ceremony, 11 students were recognized as honor graduates for maintaining a grade point average between 3.5 and 3.7 in the nursing courses. Honor graduates were Allyson Anchors, Kara Cromwell, Silvia Dawson, Deidra Dolifka, Gabriella Gonzales, Susan Howald, Annette Kingsbury, Star McGinley-Mayfield, Courtney Morrill, Laura Richardson and Lisa Trapp.
Graduates of the CTC ADN program were: Jazmine Aguilar Rios, Allyson Anchors, Alejandra Baxter, Amber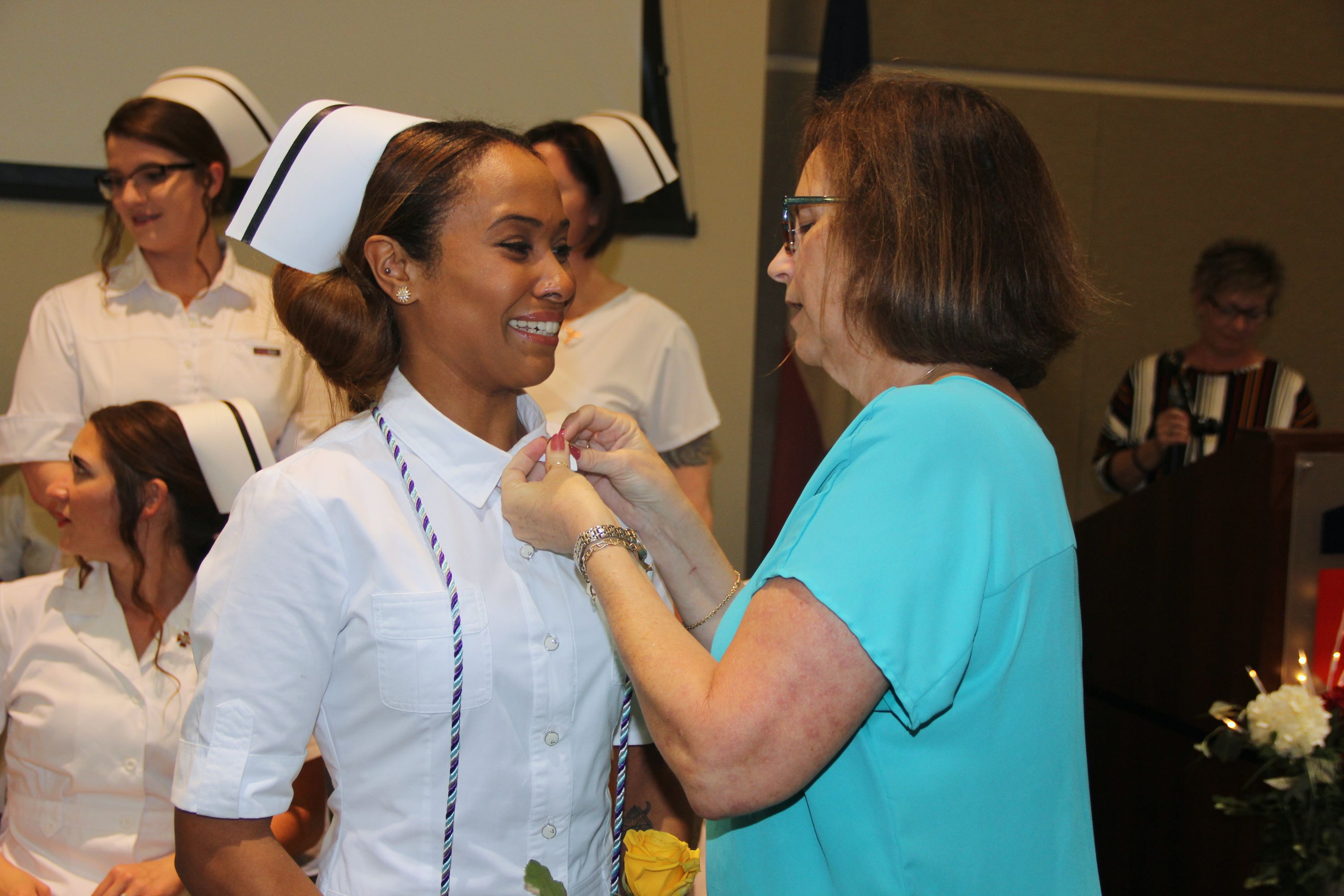 Cardoza, Dario Chavez, Ashley Connolly, Lara Cromwell, Shaun Dawson, Silvia Dawson, Deedra Diaz Gonzalez, Beatrice Dingle, Deidra Dolifka, Danice Emery, Gabriella Gonzalez, Davan Gulino, Jyoti Gurung, Susan Howald, Charles Japalucci, Jr. and Pamela Kemp.
Also graduating the ADN program were Annette Kingsbury, Eunice Kosgei, Stephanie Luna, Star McGinley-Mayfield, Sean McMurtry, Courtney Morrill, Yolande Njomjeu, Melisa Pratt, Laura Richardson, Brittany Roy, Juan Serrano, Alexus Shipp, Aubra Smithson, Michaela Sorensen, Lisa Trapp, Cherrie Turner, Lori Volk and Derriel Woods.
The CTC ADN program provides 60 credit hours in five semesters culminating with an Associate of Applied Science degree. It is a pre-licensure nursing program which enables the graduate to take the Texas Board of Nursing National Council Licensure Examination-Registered Nurse (NCLEX-RN®) and prepares graduates for professional practice in a variety of health care settings. The ADN program provides classroom instruction and coordinated supervised clinical experiences in the nursing care of clients in local affiliated hospitals and health care agencies.