More than 300 students graduated from Central Texas College (CTC) during the spring 2022 commencement ceremony at the Bell County Expo Center last Friday. Of the more than 1,066 CTC students who applied for graduation worldwide, 334 participated in the local procession. The degrees conferred included 73 Associate of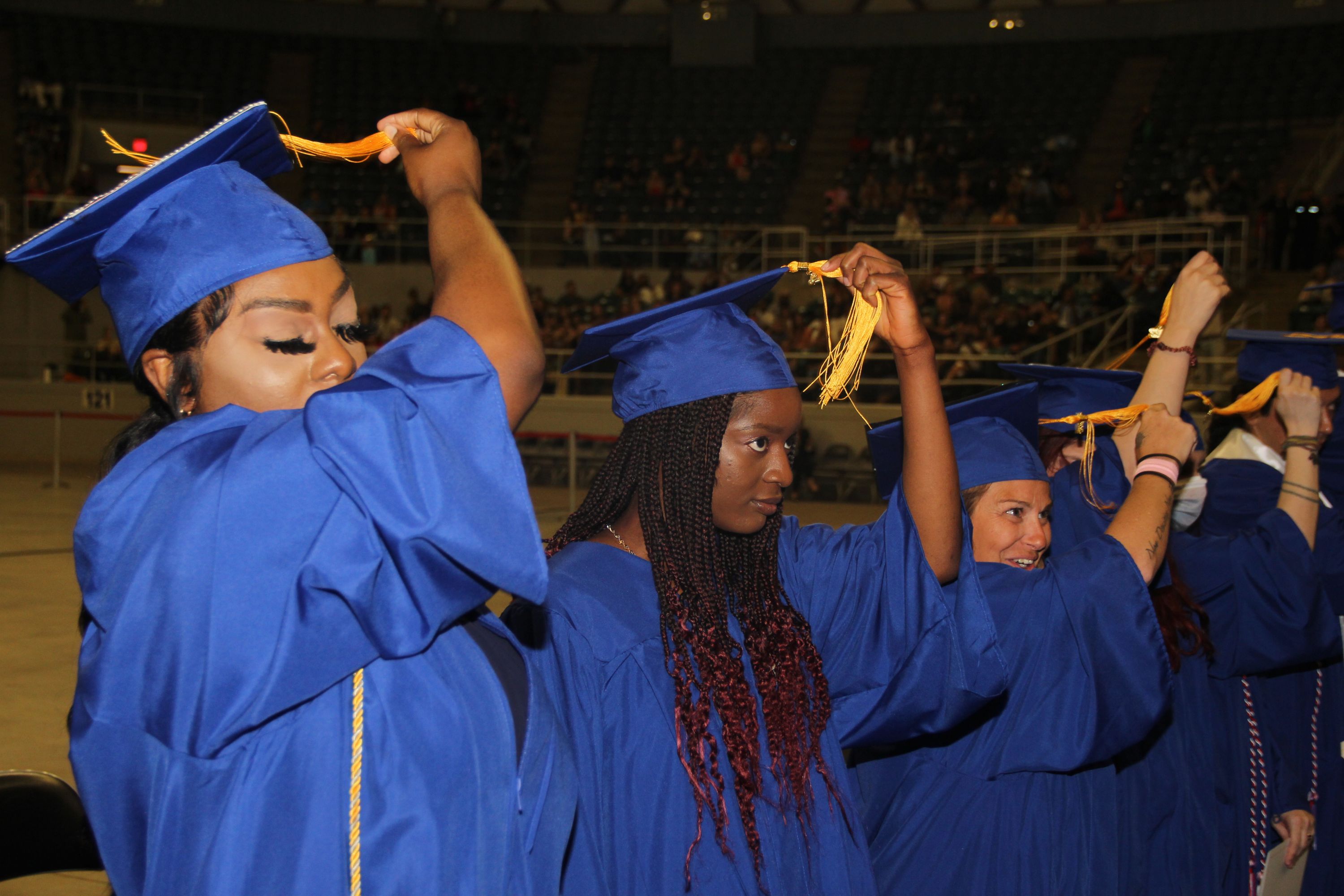 Applied Science, 223 Associate of Arts, 17 Associate of Science and 21 Certificates of Completion.
Six students were recognized as highest-honors graduates for maintaining a 4.0 grade point average while completing their degree plans. Those were Rachael Gutierrez, Associate of Applied Science; Heather Mauricio, Associate of Arts; Shaylin Romero Jimenez, Associate of Arts; Mekaila Vila, Associate of Arts; Devin Xiao, Associate of Arts; and Jared Yellowhair, Associate of Arts.
While most graduates were from the central Texas area, some distance learners and students from the CTC Europe campus and continental sites in Oklahoma, Louisiana, Mississippi, California, New England, New York and Washington also indicated plans to attend the commencement. The average age of the CTC graduates was 29 years with the eldest graduate at 61 years of age and the youngest was 17.
Among the graduates were various active-duty military personnel and family members: 54 soldiers in the U.S. Army, one member of the U.S. Navy, two members of the U.S. Air Force, two Marines, one National Guardsman and 70 military family members.
The spring 2022 semester CTC graduates scheduled to participate in the ceremony were:
Killeen
Associate of Applied Science:
Christina Anderson, Alejandra Baxter, Lenyrose Breytspraak, Isabel Carrillo, Rebecca Chase, Dario Chavez, Jr., Kara Cromwell, Luz Cruz, Katlynne Gauna, Najja Gould, Davana Gulino, Rebecca Gurganus, Jyoti Gurung, Rachael Gutierrez, Susan Howald, Tiffaney Hurst, Moonhee Kang, Crystal Kniffen, Aaron Licourt, Khadijah Little, Stephanie Luna, Kimberly Martinez, Michael McCarter, Star McGinley-Mayfield, Ana Mercado, Charles Noble, Doreen Djameh, Courtney Pettit, Nicole Sellers, Juan Serrano, Alexus Shipp, Alexandria Smith, Aubra Smithson, Michael Taisacan, Dat Tran, Cherrie Turner, Jomar Velez Cosme, Lori Volk, Lance Wichern, Desiree Wickham and Aspen Yates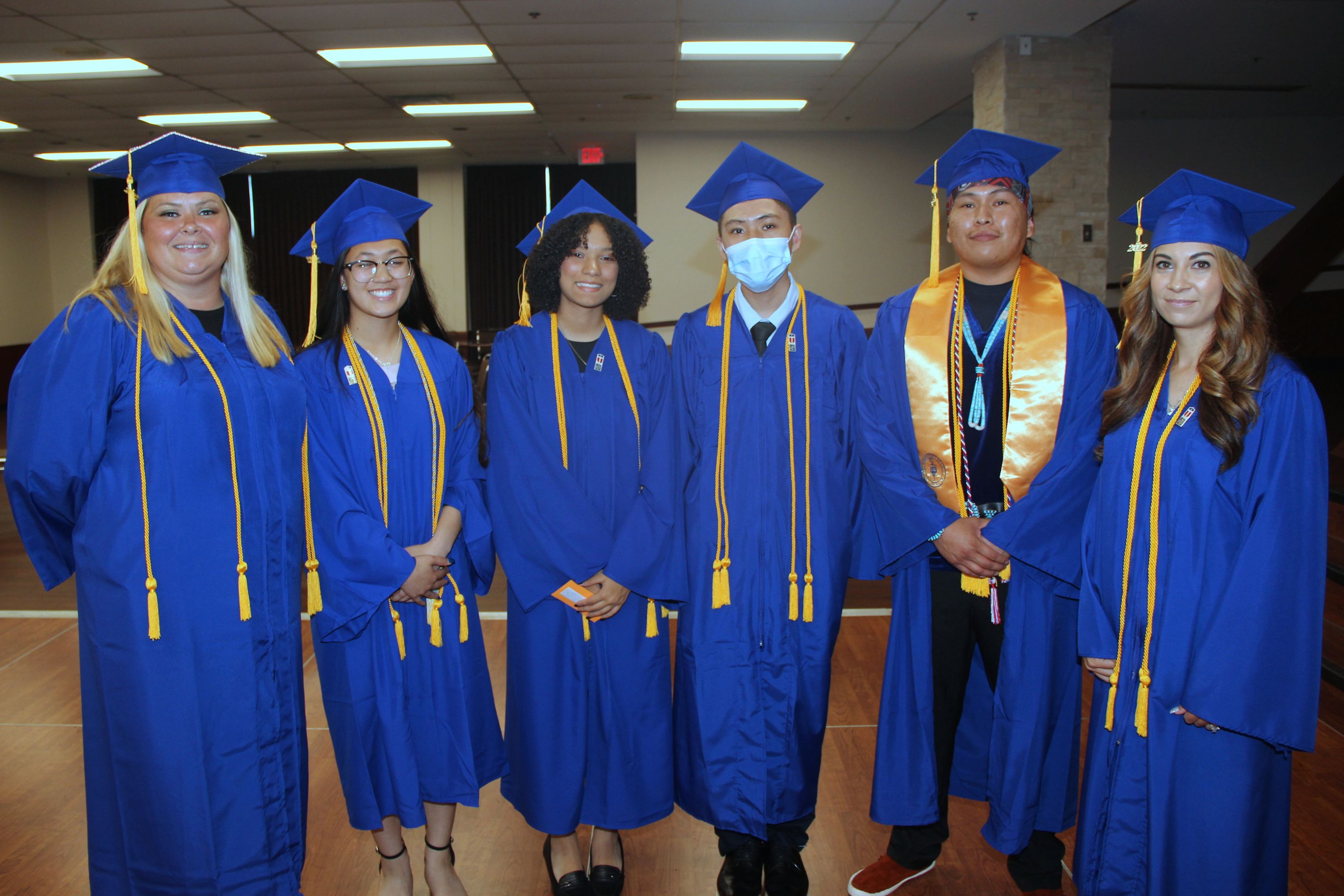 Associate of Arts
Collins Akpablie, Swin Andrew, Juan Arango, Angela Areu, Jennifer Balive, Janessa Bartz, Alejandro Bonilla, Keria Brown, Tajohn Burgess, Kyana Burney, Jaspearl Cabading, José Caballero, Isaac Camacho, Leivin Camacho, Madison Camden, Tristian Carnell, Esmeralda Carrizales, Bryanna Cedeno-Garcia, Jerich Cerrada, Alissa Clark, Amari Collins, Allison Courchesne, Saha Daniel, Aaliyah Davis, Cody Davis, Joy Davis, Abbigale Deem, Diavanni Dejesus, Bailey Denney, James Dent, Karina Dominguez, Agatha Dudenhoeffer, Tamara Durbin, Ke´Lice Durham, Karina Espada-Ortiz, Angel Estrada, Jaquarius Evans, Ethan Everett, Josephine Figueroa, Nevaeha Gadson, Brianne Gaines, Courtney Geisleman, Jesus Gomez Vargas, Toni-Marie Guzman, Remee Hairston, Faith Henry, Rafael Hernandez, Kaden Hurst, Layla Irwin, Amani Jackson, Malasia Jackson, Caleb Jakoby, Alexia Jean-Francois, Casey Johnson, Jayden Jones, Maddisen Kaltenbach, Ellessa Kearse, Anthony Kelley, Jr., Amani Keo, Steve Koehler, Kayla LaBoy, Jesena Ladore, Alexandria Lambert, David Lanxon, D´Avante Lee, Rebecca Leija, Leah Leonidis, Alannah Lizama, Samantha Locke, Gemini London-Edwards, Devina Lopez, Vincent Lopez, Antonio Martinez, Heather Mauricio, Faith Meadors, Princess Melchor, Adaizah Millett, Maria Montiel, Natalyn Moore-Johnson, J´alexa Morales Rodriguez, Madelyn Morua, Breauna Muñoz, Dae´Tian Nanton, Kaeden Nelson, Kailani Ngov, Yolanda Nguyen, Jamie Nielsen, Kimberly Niemiec, Philip Noyer, Sampson Noyer, Trina Orr, David Ortega-Godinez, Christina Page, Lacianne Palma, Magdalena Paredes Oritz, Chelsie Peacock, Elizabeth Peña, Nicholas Perrin, Elina Perrodin, Taylor Peterson, Shatayia Pierce, Alyza Privott-Spencer, Renz Quiletorio, Huacari Rangel, Jade Richards, Emily Rodriguez, Yasmin Rosario, Jada Rowls, Cejay Ryan, Steve Salgado, Cailyn Scott, Mia Sias, Margo Simpson, Brittnee Smith, Tiwanna Smith, Mackenzee Staggs, Deven Stevens, Hannah Taylor, Emily Thomas, Jayvon Thomas, Zykirah Thompson, Yahir-Elias Torres Castro, Cesar Tovar, Aisha Tyler, Steven Valentin, Jr., Adriana Villarreal, Yazmin Villasana, Gloria Wambua, Davion Washington, Olivia Wintz, Liyah Woods, Devin Xiao, Jared Yellowhair, Gracelyn Yi, Stephanie Young, Yasenia Young, Elizabeth Younkin and Jocelyn Zamora
Associate of Science
Crysangelim Casillas-Vicente, Sara Deem, Ashley Exantus, Queenie Humes, Adela Magallanes, Anthony Palmer, Ceciley Peterson, Anthony Powers, Damian Sapien, Andre´ Sellers, DonJeanea Stewart and Marcus Stillwell
Certificate of Completion
Maria Altamirano, Gabriela Alvarez, Karen Davis, Jasmine Dobbins, Kristen Gallien, Amanda James, Martayvias McCloud, Tinei Nanai, Roberto Rodriguez and Alicia Rolland
Harker Heights
Associate of Applied Science
Danice Emery and Ylenia Williams
Associate of Arts
Deborah Arroyo, Donald Bentley III., Joseph Bourland, Christopher Campbell, Jr., Karim Clarke, Jr., Dajuan Deas, Destiny Delgadillo, Karla De los Santos, Eden Demaree, Jade Garcia, Jayson Garcia, Cooper Gearhart, Nevaeh Giron, Justine Haney, Zachary Harry, Serenity Hoffman, Tavia Isaac, Kranay Jones, Cherokee Kachura, Jacey Kinlaw, Katie Leon, Dominic Macon, Brianna Marr, Amahn Mckalope, Hannah McNab, Jewlian Mejia, Michael Miller, Derek Morales, Robert Nailling, Davyna Nguemen Mbo, Alyssa Palmer, Allyson Plewacki, Imani Potter, Susan Preston, Brooklynn Price, Amari Reed, Michaias Roberts, Alejandra Rosas, Rahiym Skrine, Lauren Thomas, Isabella Valenzuela, Amarah White, Jordan Williams and Isabella Yang
Associate of Science
Janet John
Certificate of Completion
Ensara Lance, Liliane Mandeville, Eduardo Marquez, Ben Quinata, Aniyah Rooks and Kassandra Shackelford
Fort Hood
Associate of Applied Science
Shaun Dawson, Silvia Dawson, Deedra Diaz Gonzalez, Gabriella Gonzales, Eunice Kosgei,
Brittany Roy and Lisa Trapp
Associate of Arts
Hannah Adams, Jose Diaz, Jr., Briana Herring, Hector Lamas, Marquez Quinones, Shaylin Romero Jimenez, Michael Salas, Vanessa Trujillo, Mekaila Vila and Chazmin Williams
Associate of Science
Rachel Lynch
Certificate of Completion
Brandy Brooks and Tatum Racine
Copperas Cove
Associate of Applied Science
Madroneka Chapman, Ashley Connolly, Phylisha Edouard, Charles Japalucci II., Rebecca Mowery and Penny Warren
Associate of Arts
Madeline Cabriales, Stephanie Caro, Alexxus Hodge, Khloe Hudgins, Kasemea Johnson, Madeleine Phillips, Bralyn Robinson and Emi´jah Spencer
Associate of Science
Ryan De Long and Haley Phillips
Gatesville
Associate of Applied Science
Shiloh Campbell, Corey High and Whitney Holmes
Burnet
Associate of Applied Science
Annette Kingsbury and Derriel Woods
Associate of Arts
Carmen Casas Hernandez
Associate of Science
Mariela Suarez
Lampasas
Associate of Arts
Cynthyamarie Dennison
Marble Falls
Associate of Arts
Wesley Beaman, Edith Boyd and Mandi McMulin
Hamilton
Certificate of Completion
Shawn Renaud
Nolanville
Associate of Applied Science
Tamina-Lee Hunter
Associate of Arts
Jamin Crespo, Irissa Crowe, Aidan Jackson, Sherilyn Mariano, Isaiah Mills, Jade Mitchell and Taylor Quillin
Associate of Science
Caitlin Trentin
Belton
Associate of Applied Science
Brystal Holcombe and James Williams, Jr.
Associate of Arts
Jennica French and Daniela Pauly
Temple
Associate of Applied Science
Courtney Morrill and Melisa Pratt
Associate of Arts
Myveanis Alvira, Dania Araujo, LaFrancia Holmes and Carrie Wiley
Associate of Science
Geneva Raulerson
Crowley
Associate of Applied Science
Dylan Beeson
Forney
Associate of Applied Science
Porsha McCoy
Houston
Certificate of Completion
Wyndell Holmes
Johnson City
Associate of Applied Science
Jazmin Aguilar Rios
Kemp
Associate of Applied Science
Leah Riddle Wilkins
Associate of Arts
Ina Lockhart and Marcus Lopez
Llano
Associate of Arts
Kelsey Bilski
Leander
Associate of Applied Science
Nashara Gonzalez
Madisonville
Associate of Applied Science
Kennedy Ordaz
Pflugerville
Certificate of Completion
Melisa Johnson
Pointblank
Associate of Arts
Lacey Allen
Rochelle
Associate of Applied Science
Buck Jones
Round Rock
Associate of Arts
Jose Galicia
Spicewood
Associate of Applied Science
Stephen Hassett
Wichita Falls
Associate of Arts
Kristen Cratty