Nursing students often sacrifice time spent with their families or significant others for proper studying, clinicals, test-taking and other rigors of the program. But for Shaun and Silvia Dawson, the opposite was true as the husband and wife recently graduated together from the Central Texas College (CTC) Associate Degree in Nursing program. And just like in their marriage, sharing class space, labs, clinicals and homework has proven to be a great experience for both of them.
Shaun described the last two years as a great experience. "It's kind of like going through school with your best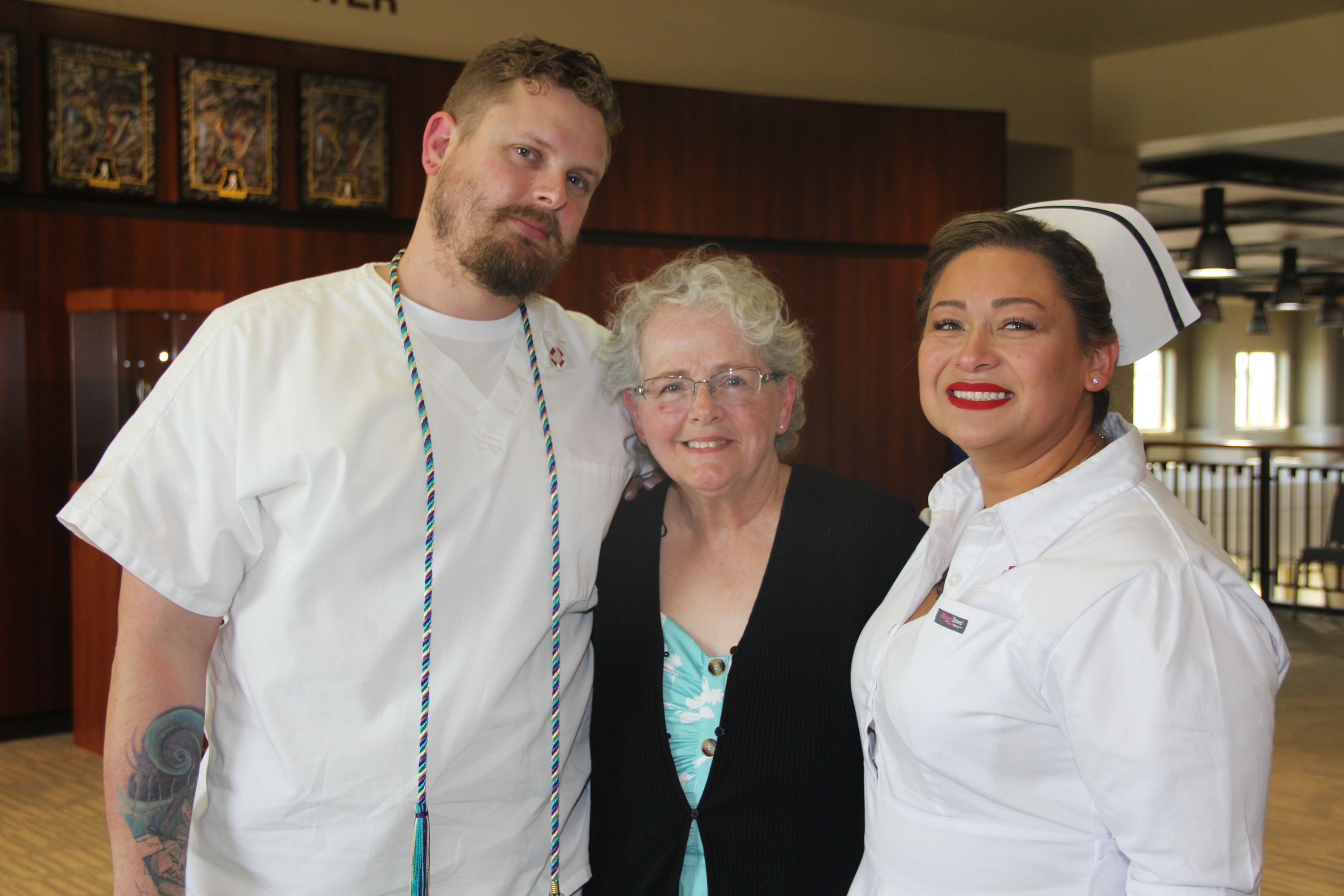 friend," he said. "We do everything together. It has also been beneficial to our relationship, we have learned so much about one another due to being classmates."
Silvia echoed those thoughts. "Honestly, we have had a great experience sharing class space," she said. "I always have a study buddy and carpool buddy for clinical. It has been nice to have him with me through the good times and the not-so-great times. It's great to know that he fully understands my accomplishments and frustrations."
Knowing she was destined to be a nurse, Silvia, suggested a career change to her husband who spoke of being unfulfilled in his current job. "Shaun was unhappy with his career path at the time working as a diesel mechanic in the oil field," she said. "I always noticed he had an affinity for medical topics and biology and seemed to have a passion for helping others. Nursing has always been the path I wanted to take so I asked him if it was something he was interested in and if he thought we could do it together. Of course, he said yes and came home in time for the summer semester to catch up on prerequisites."
Originally from Junction City, Kansas, Shaun served nearly eight years in the United States Army before a medical retirement. He was introduced to Silvia, who came to Texas via Maple Falls, WA, by a mutual friend who invited them to a music concert here in Texas. They have since been married for 12 years. And like learning to live together as life partners, the couple had to learn to become study partners. "Our main challenge was working around work schedules," said Silvia. "We kept each other on track throughout the program and really found what works for each of us. It was a little bit of a challenge at first because we have different learning styles and we did have to figure out how to mesh them in order to study together."
Shaun found mutual study time to be beneficial as well. "It's been great as we are able to break material down to one another in ways that help us," he said. "We have learned each other's strengths and weaknesses and are able to use that to help each other out."
As Shaun and Silvia first received their nursing pins - signifying the transition of student nurse to the role of practicing nurse - and then their associate degrees, the reality of their combined accomplishment began to sink in. "I am so proud of the both of us and I try not to get too sappy, but I really do get teary thinking about how we had the opportunity to achieve this together," said Silvia. "This journey is so special to me and knowing we get to cross that finish line together brings tears to my eyes. It's not something everyone has."
The specialness of their achievement was not lost on Shaun. "I don't think it has completely sunk in yet that we have made it this far together," said Shaun. "The last few years leading up to this moment feels almost like a 'what happened?' moment. I am looking forward to supporting Silvia in her journey and this career we have chosen to take on together."
Their new career and further education plans will begin shortly after walking across the stage to accept their associate degrees. Silvia will start as a graduate nurse this summer in the neonatal intensive care unit at Baylor Scott and White in Temple. "I plan to go on to my BSN immediately," said Silvia. "I have a few prerequisites to complete then I will be applying to UT Arlington."
Shaun will also begin work right after graduation. "I have accepted a spot at Seton Medical Center in Harker Heights as the hospital's first male Labor and Delivery nurse. The both of us have already started chipping away at classes for more advanced degrees."
While crediting the good fortune to complete school and start nursing careers together, the Dawsons also thanked CTC for providing a solid foundation of education. "We have met some amazing people and had the opportunity and honor to be taught by some incredible nurses," said Silvia. "We were accepted and embraced as a couple by both our peers and professors."
Shaun similarly summarized the experience. "Completing the ADN program at CTC has been a welcomed and enjoyable challenge for us," he said. "I feel having completed this program with Silvia has strengthened our relationship with one another in many ways. We knew at the end of the day what each other was feeling because we did it together and now we will tackle our careers together."
Photo: Shaun and Silvia Dawson receive congratulations from his mother, Diane Priester (middle), on earning their nursing pins.