Phi Theta Kappa
Phi Theta Kappa is the officially recognized honor society for two-year colleges. Established in 1918, Phi Theta Kappa is now an international organization in nine countries with more than three million members. Its mission is to recognize and encourage scholarship, provide an opportunity for leadership and service and create an intellectual climate for the exchange of ideas, lively fellowship and academic excellence.
CTC's Sigma Iota Chapter
Sigma Iota is the Central Texas College Chapter of the Phi Theta Kappa Honor Society. The Sigma Iota Chapter supports all departments and recognizes the highest achieving students in all areas of study. Enrollment is open to face-to-face and online students as well as students at any CTC location who meet the eligibility requirements.
All students invited to join Phi Theta Kappa are also encourage to participate, to the extent possible, in the operations of our local chapter. For more information on meeting times and events, please contact the sponsors and request to be placed on the e-mail distribution list.
New officers are selected each spring. If you are interested in becoming an officer, please contact any of the current officers via the email above for more information.
Membership
Benefits
Phi Theta Kappa membership guarantees you access to more benefits than any other student organization. As a member, your academic excellence will be recognized with the Golden Key membership pin*, membership certificate, identification card*, and limited notation of membership on your diploma and transcripts along with the privilege of wearing regalia at graduation that sets you apart as a Phi Theta Kappa member. Membership also provides exclusive access to online benefits including the eScholarship Directory, listing information on scholarships designated exclusively for Phi Theta Kappa members and letters of recommendation for scholarships and employment.
*Items administered through Phi Theta Kappa National, not the Sigma Iota Chapter.
Eligibility and Membership
To be eligible for membership students must:
Be enrolled at Central Texas College in an associate degree program or approved program of certification.
Have completed at least 12 hours of coursework that may be applied to an associate degree program.
Have a grade point average of at least 3.5.
Adhere to the moral standards of the society.
*New members must pay one-time dues of $79
Induction
Potential candidates for membership in Phi Theta Kappa are first identified and then notified via email from Phi Theta Kappa National Headquarters. A student does not need to apply for membership as each student qualified should be identified through internal metrics and then invited to join. To join, a qualified student need only to accept the invitation and pay the requisite dues.
A formal ceremony to recognize new members is held twice annually at the end of the fall and spring semesters. New members give the oath of induction and receive membership certificates. Family and friends (up to four) are invited to celebrate inductees with a reception following the ceremony. The ceremony is not required but is simply a way to formally recognize the new class of inductees. A student formally becomes a member upon invitation and payment of requisite dues.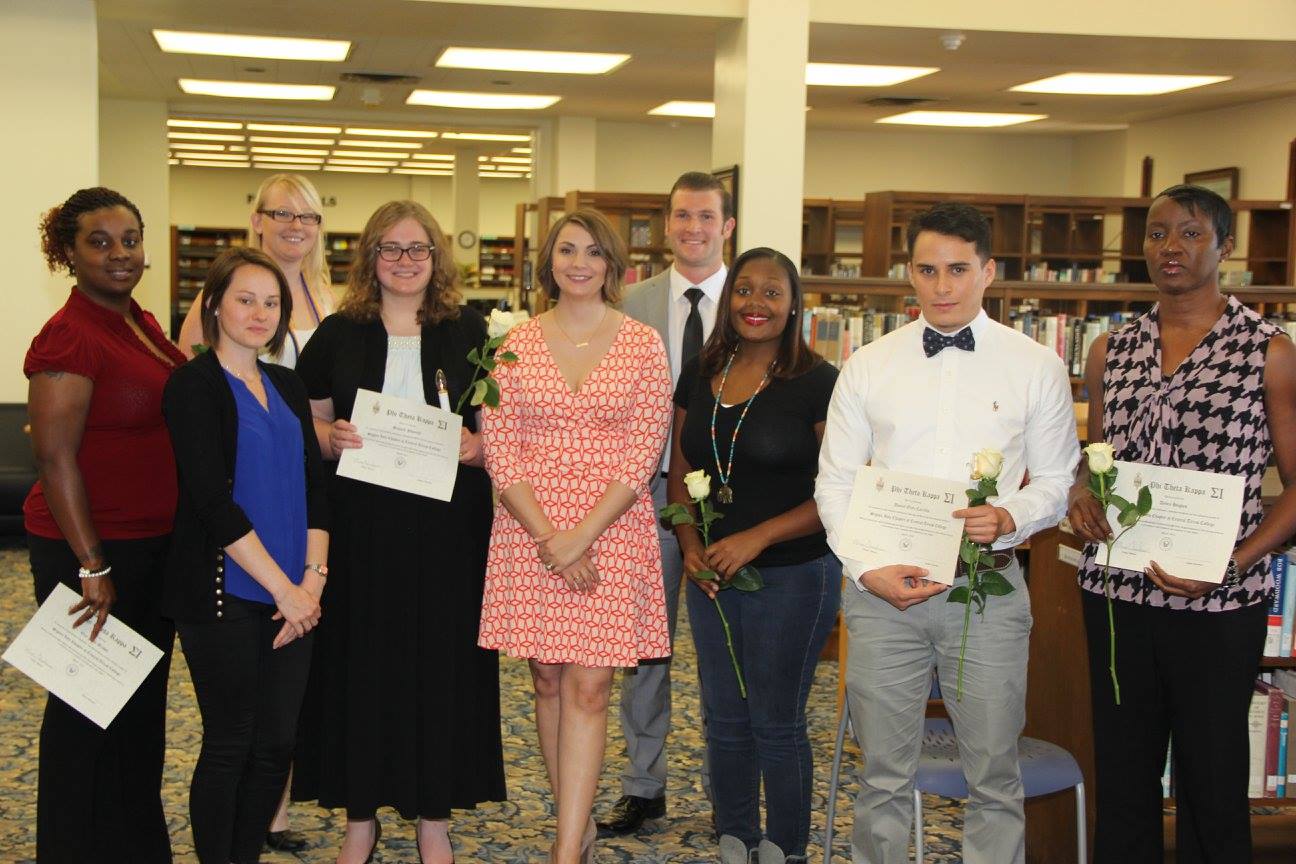 Phi Theta Kappa: Sigma Iota Graduates
Phi Theta Kappa members are given special recognition at CTC's commencement ceremony. Additionally, Phi Theta Kappa graduates are entitled to wear special regalia. All Sigma Iota graduates are encouraged to wear the Phi Theta Kappa Stole and Honor Cords. Officers are encouraged to wear the Golden Key Medallion* in addition to the other regalia.
Regalia can be purchased at https://www.ptk.org.
If you would like to be recognized at graduation for your participation in Phi Theta Kappa, please send an email to the faculty advisor at least a month prior to graduation informing of your intent to walk and your desire to be recognized.
*Item administered through Phi Theta Kappa National, not the Sigma Iota Chapter.
Contact Information
Phi Theta Kappa Faculty Advisors:
Katherine Oser - [email protected]
Karen Owens - [email protected]
Tracy Martin - [email protected]
Sigma Iota Chapter
For more information: