The mission of the Oveta Culp Hobby Memorial Library is to help patrons develop the information literacy competencies that will enable them to achieve success in their academic pursuits and to become effective, lifelong information users.
Hobby Memorial Library offers a variety of services to students, faculty and staff at CTC. Listed below are just a few of the available services and events. Please stop by the library (Bldg. 102), call 254-526-1621 or email (ReferenceRequest@ctcd.edu) for help or more information.
JavaScript disabled or chat unavailable.
The email service is offered 24/7, 365 days a year. Even when the library is closed, there is a professional librarian available to answer questions. Responses will typically be sent within 24 hours of an inquiry.
The LIVE CHAT is available during the library's open hours. Library users can type in questions and get an immediate response from a professional librarian.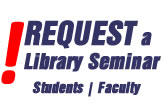 An introductory seminar is a one-hour seminar which covers databases, appropriate websites, the library catalog and citation helps. For students who are struggling, this can be a great help in finding academically appropriate resources. We recommend all students and faculty take an introductory seminar to acquaint themselves with the library's resources.
TLC Room (Teaching Learning Center)
From starting research to proofreading the final product, the Teaching Learning Center (TLC) Room is here to help.
Drop-in hours are Monday - Thursday from 9:30 - 11:30 a.m. and 3:30 - 5:30 p.m.
Please email teaching.learning@ctcd.edu to request an appointment.
This is a service available to faculty to help check student assignments for plagiarism.
To utilize this service, please email ReferenceRequest@ctcd.edu and include Academic Plagiarism in the subject line.
Multimedia Lab
Check out laptops and iPads in the computer lab which can be used within the library building for three hours at a time. (Only for current CTC students, faculty and staff)
The library has more than fifty computers available for use. Priority is given to patrons with a valid CTC ID.
Want to bring in a laptop/mobile device? The library has FREE WIFI!
Printing Services
Faxing - 50 cents per page
Xerox copies - 25 cents per page
Printing from lab computers - 25 cents per page
Laminating services - 50 cents per foot
Scanning is free
Social Media
Connect with us on a variety of social media platforms to stay up to date on library events.
Click Here to view our Facebook page
Click Here to view our YouTube Channel
Circulation services
A valid CTC ID is your library card.
Check out up to 10 books at a time for a three-week period. Books can be renewed online!
Textbooks on reserve! Some instructors bring textbooks, lecture notes, quizzes and tests to put on reserve in the library. Students may use them for two hours at a time within the library.
Study/presentation rooms
Individual/small group study rooms are available on for two-hour checkouts.
Other study rooms are available on a first-come, first-served basis.
Group study rooms can be reserved up to twenty-four hours in advance by filling out this Room Reservation Request
Periodicals
The library has a collection of scholarly, trade and popular periodicals for browsing within the library.
Learning Commons
A dynamic, collaborative space that provides an environment where students can receive assistance with their research and information needs. The Commons combines individual and group study space, presentation areas, access to technological services and immediate in-depth reference services with the presence of professional librarians.