Pharmacy Technician
As a pharmacy technician, you will help the pharmacist package or mix prescriptions, maintain client records, refer clients to the pharmacist for counseling, assist with inventory control and purchasing as well as collect payment and coordinate billing. This course consists of 200 hours of accelerated classroom training with emphasis on skills mastery through hands-on practice and supervision.

Course Fee: $3244 Includes consumable supplies and certificate of completion.
OR $3373 includes consumable supplies, certificate of completion and NHA ExCPT certification exam.

Financial Assistance: Students with a need for financial assistance may contact Sallie Mae for a loan. There is also a parent-initiated loan option available with Sallie Mae. We are listed as CTCD-Continuing Education on the Sallie Mae site, school code 00400398. Sallie Mae includes 4 months of free Chegg® study help - a $100 value.
Students who qualify may use MyCAA benefits. Contact MyCAA to see if you qualify.

Starting Pay: The median annual wage for pharmacy technicians was $33,950 in May 2019. Due to the increase in pharmaceutical needs of a larger, aging population, growth in this occupation will be almost as fast as the average for all others in the state. According to the U.S. Dept. of Labor, the need for pharmacy technicians is expected to grow 4 percent by 2029.

Certification: Upon successful completion, graduates will receive a certificate of completion within 2-3 weeks after class ends. Students are then eligible to apply for registration as a pharmacy technician in their state and be prepared to take the national Pharmacy Technician Certification Board (PTCB) exam or the Pharmacy Technician Certification (CPhT) through National Healthcare Association.
Take Your Exam: Contact CTC Central Campus Testing to schedule your PTCB or CPhT Certification Exam!
Schedule: Classes are held on CTC central campus in Killeen during the weekdays and are taught at an accelerated pace.
Clinical Experience: Explore the fundamentals of the diverse roles and practice of pharmacy technicians in an institutional pharmacy setting. Course includes an-depth coverage of hospital pharmacy organization, work flow and personnel, safety techniques, data entry, packaging and labeling operations, inpatient drug distribution systems including investigational drugs, continuous quality improvement and inventory control. (Clock hours/50, CEUs 5)
Program Requirements: Students must be at least 18 years of age at the time of enrollment. Students need competency in basic computer operations and will be required to have access to the internet, printing capabilities and an email address. Application packets must include:
High school diploma/transcript or G.E.D or official transcripts of higher education.
To view a comprehensive description of Continuing Education's Pharmacy Technician Program, see our
Program Summary. For additional information or to register for the program, contact us at 254-526-1586.
Sterile Compounding and Aseptic Technique (SCAT)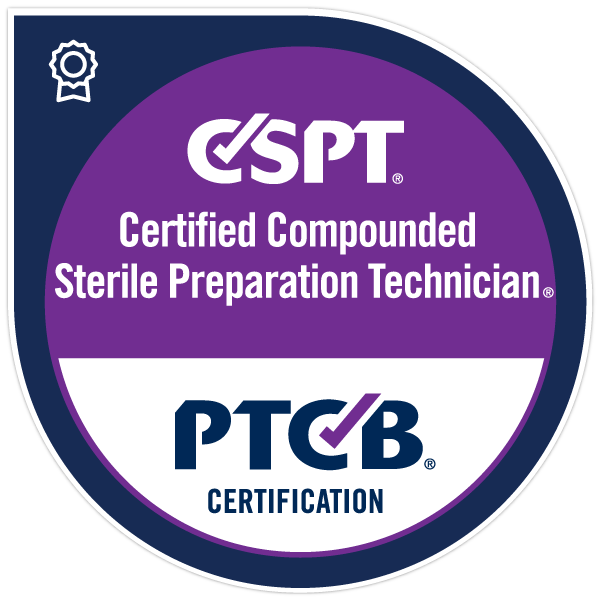 This course covers the process of compounding sterile preparations and aseptic technique within legal and regulatory guidelines specified by USP <797> standards. Pharmacists and Pharmacy Technicians train in sterile compounding and aseptic technique (SCAT), which is preceded by vigorous pre-course reading and learning course work. Upon successful completion of the course, there were will be two, examinations. All course activities are designed to be completed within a two month time-frame; however, motivated students may be able to move through the online coursework and written testing more quickly. The course will be comprised of a brief review of USP<797> standards and basic aseptic technique principles, followed by a series of process validation procedures, including: aseptic garbing and hand washing, hood cleaning, large and small volume parenteral preparation, ampule preparation, etc. Students who successfully complete the program will receive a certificate of completion and 64 CE credits/5.0 CEUs. This course is an "IV certification" course. The program costs $500 plus the cost of textbooks and course supplies. Requirement-Students must complete all the courses for Pharmacy Technician first before registering for the class or already have their Pharmacy Technician Certification. This program requires additional steps to register. To learn more about this exciting career field and additional class requirements, contact the Continuing Education Department at 254-526-1586 or visit us at www.ctcd.edu/ce. (Clock Hours/64, CEUs 5)
Cost/$500
Cost/$699 with exam voucher
Exam Cost/199
Certified Compound Sterile Preparation Technician (CSPT)
---
FAQs about Pharmacy Technicians
WHAT IS A PHARMACY TECHNICIANS WORK ENVIRONMENT LIKE?
Pharmacy technicians held about 422,300 jobs in 2019. The largest employers of pharmacy technicians were as follows:
| | |
| --- | --- |
| Pharmacies and drug stores | 51% |
| Hospitals; state, local, and private | 17 |
| Food and beverage stores | 9 |
WHAT IS A PHARMACY TECHNICIANS WORK SCHEDULE LIKE?
Most pharmacy technicians work full time. Pharmacies may be open at all hours. Therefore, pharmacy technicians may have to work nights or weekends.
WHAT TYPES OF TASKS DOES A PHARMACY TECHNICIAN DO?
Pharmacy technicians typically do the following:
Collect information needed to fill a prescription from customers or health professionals
Measure amounts of medication for prescriptions
Package and label prescriptions
Organize inventory and alert pharmacists to any shortages of medications or supplies
Accept payment for prescriptions and process insurance claims
Enter customer or patient information, including any prescriptions taken, into a computer system
Answer phone calls from customers
Arrange for customers to speak with pharmacists if customers have questions about medications or health matters
---
Access our Library Resources for Pharmacy Technician students!